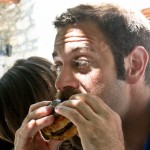 Micah
A true gastronome and multi-award winning grilled cheese chef, Micah welcomed the gourmet burger movement with a passion. No longer just a 'meat, cheese, bun' man, he now revels in all the new, creative and exciting preparations of the hamburger. Living in Los Angeles, the burger capital of the world, he is always on the hunt for the next extraordinary burger.
Yfke's obsession with hamburgers dates as far back as her fascination with the US. Growing up in Holland, a hamburger was a special treat. After moving to US, land of unlimited hamburgers, she embarked on a quest to try them all. Along the way, she discovered the fascinating stories behind the burger and the spectacular ways people demonstrate their passion for this delicious meal.
BURGER CATEGORIES
Stand: Simple and easy – outdoor seating with inexpensive, paper-wrapped burgers.
Joint: Order and pay at the counter. Enjoy your burger in customarily indoor seating.
Diner: Timeless American feel with classic burgers served directly to your table while you pay at the counter.
Bistro: A restaurant featuring many different innovative and gourmet burgers, served with style.
Restaurant: Full service and boasting an array of dishes on the menu, including one signature burger.